Do you ever wonder what's really worth it at the dollar store? Here are some of the best products you can get for just one dollar.
Here are even more dollar store ideas for you!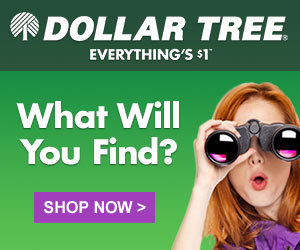 The dollar store has great office supply bargains.
If you have a home office or even if you use office supplies, the dollar store is the place to go. You can get scissors, pens and even paper at some dollar stores. You might also be able to find tape dispensers, rulers and small things like paper clips at your local dollar store.
Buy hair accessories for a dollar.
Hair accessories don't have to be expensive to look good. The Dollar Tree has many different hair accessories you can stock up on to look cute. From barrettes to hair brushes and every other type of hair accessory you can imagine, save money at your dollar store.
Stock up on essentials like toothpaste (but be careful).
Toothpaste seems like a great deal at the Dollar Tree, but that's not always the case. Check out the toothpaste at your grocery store and be sure to read the fine print about the price per ounce. Compare with dollar store prices because their sizes are usually much smaller than the ones you'd find at your local grocery store. Other items, like mouthwash, floss and even toothbrushes, are usually a great deal!
Check out the phone cases they have at the dollar store.
Many stores sell phone cases for the most popular phones for only a dollar! You can get a cute and protective case for a fraction of the price of what you'd pay at a phone store or a big box store.
Travel items are usually a good deal.
Travel-sizes don't always equal lower prices, but at the dollar store, they do! Travel items like deodorant, hair spray and soap are usually cheapest there! You can stock up on TSA-approved essentials and make sure you don't blow your whole trip budget on supplies for it.
Wrapping paper is so much cheaper at dollar stores (and so are greeting cards).
Never, ever buy wrapping paper anywhere but the dollar store! You can get wrapping paper that looks fancy, popular character wrapping paper and all the accessories you need to go along with it! You can even get a cheap greeting card that doesn't look cheap when you shop there!
Purchase products to decorate for the holidays.
Decorate your home for the holidays with dollar store items. Many Dollar Tree locations have holiday decor available depending on the season. You can find a lot of different options depending on what holiday you're celebrating. While some of the decorations are ready to go, you can also find the supplies you need to make unique DIY decorations.
Have a party using items from the dollar store.
Get ready to party when you shop at the Dollar Tree! There are so many different supplies for parties at these stores. While they used to only carry popular party colors, they now carry different themed items like unicorns and superheroes. You don't need to blow your whole party budget on supplies.
TTC? You can find what you're looking for at a bargain price.
If you're one of the many people out there who is trying to conceive, you know how pricey it can already get. To save a little money, you can stock up on both ovulation tests and pregnancy tests. Because, sister, we know how hard it can be not to take a test every day hoping for an extra line.
PS: Dollar Tree pregnancy tests might seem like a bad idea, but it looks like they might work just as well as more expensive versions as long as you're not looking for an early testing option!
Dishes, cups and flatware are all a bargain.
The Dollar Tree has many options available if you're looking for dishes and other kitchen items. If you only need a few dishes and you simply can't afford buying a whole dish set at a box store, it's a great idea. They also have fun prints and cute colors you can use to match your kitchen decor.
And so are some other kitchen items.
First kitchen? Need a cheap upgrade? Need some utensils you didn't already have? The dollar store is the perfect place to get all of it. You can get kitchen utensils and other small supplies to stock up your kitchen or pantry.
Dollar store picture frames are the best!
Picture frames at big box stores and craft stores can be expensive. While you can find great deals on picture frames from thrift stores, they might be dated or not match. The Dollar Tree has many different picture frames that are both stylish and come in matching colors. You can even find frames of different sizes that have the same style!
Stock up on junk food.
When you're looking for junk food, you can't go wrong with the Dollar Tree. They have so many different types of junk food from cookies to candy and chips. You can find full-size bags and unique candy that you won't get anywhere else.
Bonus: this one is perfect if you're going on a road trip and much less expensive than buying snacks from a gas station.
You can't beat dollar store deals for socks.
The Dollar Tree has a lot of different socks available. You can get socks for your kids or for yourself. They even have some socks that are made out of natural fibers and are perfect for keeping your toes warm during cold weather.
Buy washcloths and other towel-type items.
While you probably won't be able to find full size towels at the Dollar Tree, you can get washcloths, hand towels and dish towels. They have both microfiber and traditional towel options available. They even come in many different colors to suit different decor options!
Never leave the dollar store without buying cleaning supplies.
You need dollar store cleaning supplies! These supplies are usually made from the same ingredients and concentrations as the more expensive versions at big box stores. Get things like bleach, kitchen cleaner and more all for a dollar! Their toilet brushes, air fresheners and plungers are also a steal!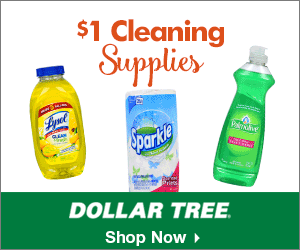 Buy napkins, plasticware, cups and paperware (but never buy this one thing).
When you make your next Dollar Tree trip, stock up on things like napkins, plasticware and cups. You can also get cheap coffee filters while you're there. These are all less expensive than what you'd find at a big box store. The one single-use paper item you probably want to stay away from there is paper towels. You can usually find a big pack of them cheaper at a big box store.
Seeds are cheap and easy at the dollar store.
You can get everything you need to start a garden at the Dollar Tree! They sell seeds, gardening tools and starter pots with soil! While you can't purchase your gardening supplies with food stamps, you can purchase your seeds that way (along with tons of other things)!