If you're looking for ways to get cheap eyeglasses, you're not alone! The average cost of a new pair of glasses in the United States is around $238, which is very expensive. However, glasses aren't exactly something that you can live without!
I understand this dilemma. I've been wearing glasses and contacts since the 5th grade. Without my lenses, I'm absolutely useless… but there have been many times in my life where I've worn the same pair for far longer than I should have, simply because I couldn't afford a new pair.
Fortunately, I've found solutions so that you don't have to make the same mistakes. You can take care of your vision properly without breaking the bank!
We've found 4 ways to get cheap eyeglasses.
There are a ton of options for cheap eyeglasses available at 39DollarGlasses.com. You can buy adult and child sizes. The $39 glasses include stylish frames of your choice, as well as clear single-vision prescription lenses. Bifocals are available for an extra charge. Every pair includes custom lenses, 100% UV protection and a worry-free guarantee.
As of this writing, they also offer prescription sunglasses ($48.95 ) and contact lenses (varying prices). They also have additional frame styles that may have a slightly higher charge, although the most expensive pair I could find was $69 (and that's for frames and lenses!).
Their worry-free guarantee means that you can get a full refund within 30 days, or a full exchange within 90 days. They even provide free return shipping!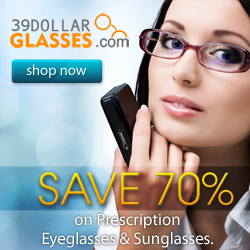 Of course, this sounds too good to be true. That's why I fact-checked and verified this service before I presented it to you. I found so many positive testimonials! Here are a few that I found from around the web:
"I had purchased a pair of glasses from Walmart for about $400. I lost them and decided to try 39dollarglasses.com and I'm glad I did. My glasses arrived one week later are almost identical to the ones I lost but less than half the price. They are the right prescriptions and they fit just right. I actually like them a little better than the ones I lost." -Mike, Forkland AL
"Sent my order in and got the glasses back in a week. Wow, glasses were out of focus. What happened? I had made a mistake entering the +/- from my prescription. Got customer service on the phone twice within 15 minutes. Emailed me return postage, and remade the glasses. I offered to pay for my error, and was told there was no additional charge. After waiting a week for the post office to return the glasses, they were remade and back in three days. All things being equal, I am a happy customer!" -Tim, Austin TX
You can browse their selection here.
Discount Glasses is another source for cheap eyeglasses.
Discount Glasses offers many frame styles, starting at just $39. While I was browsing their website, I actually found some cheap eyeglasses for just $20! The $20 price included frames and basic lenses.
Of course, they offer upgrades for better lenses, progressive lenses, anti-reflective coatings, and sunglasses. All of those things come at an extra price.
However, I was able to add a $20 pair of glasses to my cart and checkout with free shipping, so this is a great option for anyone looking for cheap eyeglasses!
Check out Discount Glasses here.

Overnight Glasses has glasses for as little as $40. These include free basic single vision frames. However, they have very limited options in this price range and most of their frames are more expensive.
However, if you need cheap eyeglasses fast, then Overnight Glasses may be the right option for you. They have next-day shipping, so that you can literally get your glasses within 24 hours. If you're in dire need, this service may be able to help you.
With this link, you can even get 30% off your first order!
Got Medicaid? You may be able to get free glasses!
If you have Medicaid benefits, you may be eligible for free eyeglasses every 12 months. If you have a pair of glasses that is still in good repair, you may be able to get the lenses replaced every year.
However, if you use Medicaid benefits, your option for frames may be very limited. When I received free eyeglasses from Medicaid, I had the choice between two frames and both were awful… but I could see again, so that was good at least.