Living in a small space doesn't have to mean your house is always messy or cluttered. Organizing small spaces is easy to do with these dollar store hacks we found!
Try these other organization ideas we've found!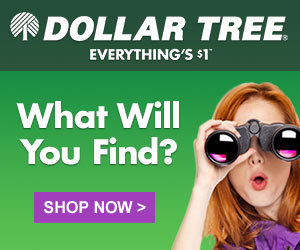 1. Locker bins are perfect for organizing small spaces.
Since locker bins were created for organizing small spaces, they're the perfect solution for small space organization. They're small, are easy to line up together and come in colors to match most decor styles. You can use them in almost any room in your house to help save space.
2. Be sure to label everything you have organized.
Labels are important because you won't have to dig for the items you're looking for. If you label everything, you'll know where it is at all times. Labels also help you keep things organized so you don't have to worry about where to put something when you're done using it.
3. Use square containers instead of round ones.
It'll always be easier to organize with square or rectangular containers than round ones. Round ones do not fit together easily and there will be a lot of wasted space in between the containers. Choose square containers that are the right size for each of your items.
4. Be creative with the items you buy.
Just because you choose something that is made for one purpose, doesn't mean you have to only use it for that reason! You can use things like laundry baskets for blanket or other storage. You can use fabric bins to help organize clutter and you can use acrylic makeup containers in your refrigerator. Getting creative with the items you use might make it easier when you're organizing small spaces!
5. Try out the dollar store stacking bins.
Stacking bins can help if you're organizing small spaces. Since they take up vertical space instead of horizontal, they give you storage that would normally be wasted space. The stacking bins come with open ends so they're perfect for a small bathroom, closet or cabinet.
6. Create clutter bins with dollar store baskets.
Every home needs a clutter bin (or two)! You can leave them in the most common areas in your home and use them as a catchall. Depending on the size you choose, you can put things like small toys, papers and hats in them. Be sure to empty them out once a week or more often so they don't get too much clutter in them.
7. Use dollar store lights to make the space brighter.
Small spaces can seem even smaller without the right lighting. When you're organizing small spaces, adding some lights can brighten them up and make it easier for you to see what you're looking for. The dollar store sells lights that are battery operated so you won't have to worry about wiring or anything electrical!
8. Make sure your decor is also functional.
Don't waste space! There are a lot of products at the dollar store that can double as storage and decor. If you choose the right items, you'll give yourself space without worrying about wasting the space with one-purpose decor items.
9. Use vertical space to save create even more storage.
Stacking bins aren't the only thing you can stack up from the dollar store. Use acrylic containers, plastic baskets and more to stack things up at the dollar store! You might also be able to find boxes that your bins will fit perfectly on which creates new levels of interest in the decor pieces.
10. Get creative with suction cups.
You can do so much with dollar store suction cups. Use them to store your shower items, things on your refrigerator and so much more. If you have small plants or other items you want a special place for, suction cups even work on windows!
11. Cutlery trays are perfect for toothbrushes.
When you're organizing small spaces, the bathroom is usually the biggest challenge. You can use dollar store cutlery trays to hold toothbrushes, toothpaste and floss. While this works great for any bathroom, it's especially useful if you have a lot of people who are sharing the same bathroom!
12. Use accordion racks from the dollar store for wall storage.
While stacking bins and other items work great for creating vertical storage space, so do walls! You can use wall hooks and other options to make more space for the items you have. Hooks on the wall are a great way to make sure your things always have a place to go.
13. Metal pans make great magnet-holders.
If you have a lot of magnets, but want to keep them off of your refrigerator, you can use metal pans! The aluminum pie pans from the dollar store work great for this and they'll keep the kids busy for a long time. Mount them on your wall or keep them off the walls so you can take them on car trips for entertainment!